STP Protectants & Cleaners
STP Son of A Gun Protectant
Combines high gloss with sunscreen for protection and shine.
Protects dashboards, vinyls, consoles.
Prevents fading and cracking.
Available Sizes: 16 oz,, 10 oz.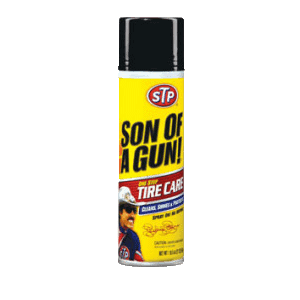 STP Son of A Gun Tire Care
Dissolves dirt and grime.
leaves rich satin finish.
Protects against cracking and discolouration.
Tuff Stuff Leather Cleaner and Conditioner
Keeps leather supple.
restores leather to a new like appearance.
Available Sizes: 16 oz.
Tuff Stuff Multi Purpose Foam Cleaner
Foaming formulation helps lift dirt.
Gets rid of toughest stains.
Helps restores true colour and appearance.
Available Sizs: 22 oz.
Tuff Stuff Cleaner and Degreaser
Degreases engines.
Removes soap scum, hard water and road grime.
High ph for optimum soil removal.
Available Sizes: 32 oz.